2016 Pilot Fog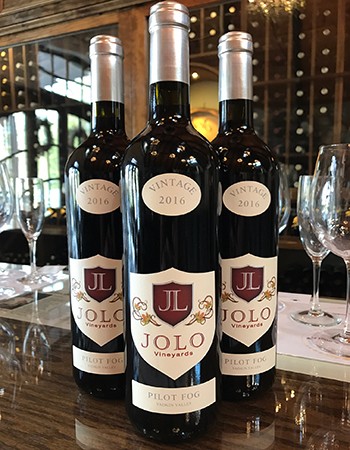 Wine Specs
Appellation
Yadkin Valley
PILOT FOG 2016 CYNTHIANA
The 2016 Pilot Fog, our Cynthiana wine offering, is from our third harvest and in many ways we feel it is a notch above the fantastic 2015, which sold out quickly and was awarded many medals (including a "Best of Show" accolade). This wine will be available for sale in very limited quantities so buy a bottle before it sells out!
COMMENTS FROM THE WINE MAKER:
This rich and full-bodied Cynthiana is layered in enticing aromas of blueberry and dark cherry, cola, mocha and spices. The elegant wine has a supple and velvety mouth-feel with a finish that demonstrates balanced tannins, acidity and should be paired with steaks, braised meat, barbeques, hearty stews or to be enjoyed on its own. This wine will age gracefully for a decade or more. Enjoy!
Harvested: September 18, 2016
Cooperage 100% New American Oak Barrels
Bottled: April 8th 2017
Released: April 8th 2017
Number of Bottles:2,599